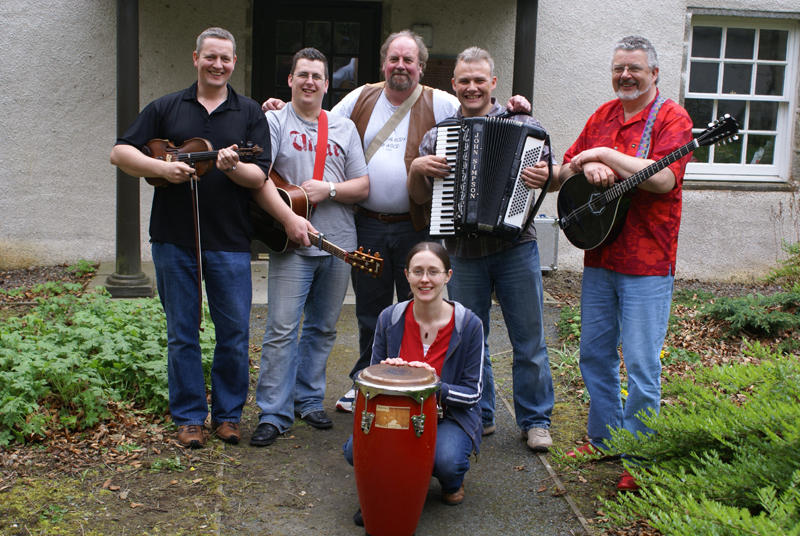 Back in 2006 a group of local North East musicians formed a band and called themselves Bratach Bana, a name suggested to them by the popular Scottish singer Fiona Kennedy, named after a song made famous by her late father Calum Kennedy many years before. So far so good, however having agreed that this was a great name for this new band, and adopting it as their own, a little bit of research seemed to confirm that this name was also shared with the famous Fairy Flag of the clan McLeod which still exists, and on display at the ancestral home of the clan chief, Dunvegan Castle on the Isle of Skye
As it turns out their research was a tad squiffy as the fairy flag is actually called the Bratach Sith (pronounced Bratach Shey), but they were never going to let a small detail like that get in the way of a good story!
The band ( Sandy Fettes, Andy Ritchie, Scott Thompson, John Simpson, Eddir Connor, later replaced by Kenny McKenzie, and Babs Burnett ), continued to be known as Bratach Bana and proudly featured the Fairy Flag on their album cover of their Shetland Lights CD which was released in the summer of 2007, the entire album as well as many unreleased session tracks are available to listen to on the media player below.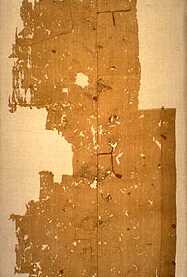 The Bratach Sith, a treasured McLeod Clan relic currently on display at Dunvegan Castle in Skye.
Unperturbed by this minor faux pas, the Band's Scott Thompson penned this brilliant song called 'The Shining Child', which explains vividly the myth of the Fairy Flag. It was only ever performed live on one occasion, at the Lemon Tree in Aberdeen, fortunately, this recording of the song was made on that night, and discovered again just recently we are delighted to share it with the Cruden Bay Folk Club community.
In this short article, Scott Thomson reflects on his time in the band. There's not a great deal of video footage featuring Bratch Bana, but we did find a lovely clip of the Dougie McLean track 'Ready for the Storm' filmed duting a rehearsal session in Cruden Bay Village Hall which can be seen towards the end of this video.